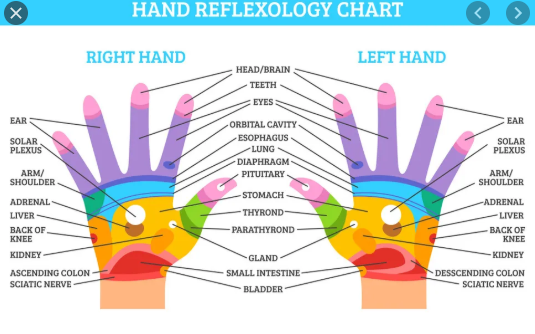 Reflexology, also known as zone therapy, is an alternative medical practice involving the application of pressure to specific points on the feet and hands. This is done using specific thumb, finger, and hand massage techniques without the use of oil or lotion.
Western medicine has made many wonderful advances to deal with the disease.  However chronic pain or discomfort in varying parts of our body has not been satisfactorily addressed.  Alternative medicine can often be lightyears ahead of western medicine when it comes to relieving pain.
Although a combination of both Western and alternative medicine, is probably the most sensible route overall, it is worth looking at the benefits of an alternative form of pain resolution, such as reflexology. The principles of reflexology have led to the idea of finding the pressure points within the palm of your hand that is connected to the part of the body causing you pain.
By pressing the thumb point into the corresponding part of the hand for 5 seconds, releasing for 3 seconds, pressing again and repeating this cycle for several minutes, several times a day you will get results.  This methodology, as well as others, are demonstrated in this video.
STORIES CONTRIBUTED by N. MORGAN