north america first appeared on a world map in what year ?
That 'newly discovered' 'New World' 'Land of milk and honey' wasn't so new after all !
EARLY CHINESE MAPS OF THE WORLD ? Bing Images
There are no European maps of 'The New World' before 1507 ( but, there is a nice Chinese map of 'The New World' from 1417 !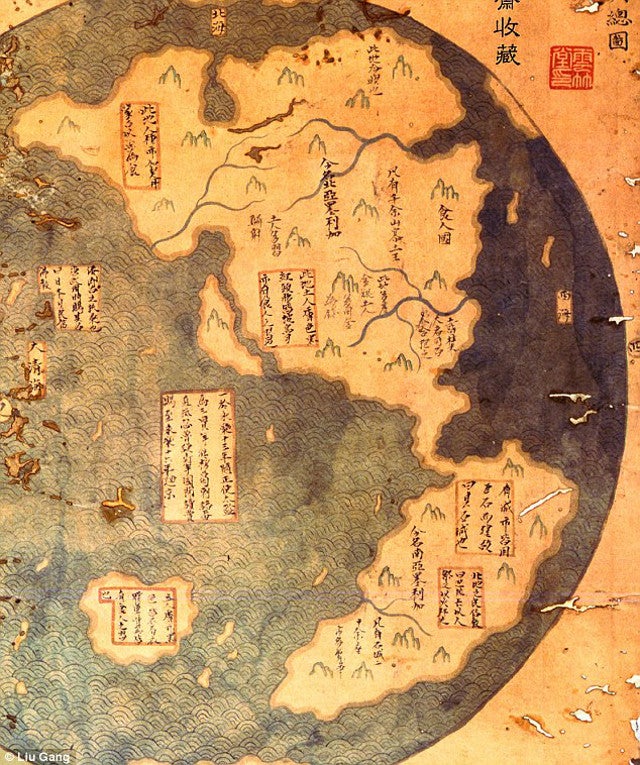 And, assuming it would take at least a few hundred years to complete such a map …
The Chinese must have known about North America since at least around 1200 if not sooner
( Thanks for educating our children with your European British Bullshit , how can we ever thank you! Thank god you didn't let any Chinese or Russians turn them into slaves ! )
And, assuming there were no Jesuit Tricksters in the equation , as we know was the situation when a Chinese Emperor 'trusted' those nice smart educated european men to 'map' it ( but that's another story )
And, assuming any Cartographer with a few brain cells left who has not been blackmailed by the Western Puppet Master …
Q. HOW IN THE HELL IS IT POSSIBLE FOR A CONTINENT THAT HASN'T BEEN DISCOVERD YET TO APPEAR ON A MAP ? Correct Answer: It's Not Possible !
Assuming one can't measure or boundry any land which one has never seen.
And, remembering what Adam Smith , author of the WEALTH OF NATIONS observed in the 1700's : "China is a much richer country than any part of Europe"
And, taking into consideration the number of years it would have taken to survey and detail a continent the size of North America …
ONE VERY IMPORTANT QUESTION NEEDS ANSWERED !
Q. Why would the European Elites 'encourage' their feudal serfs to GO WEST YOUNG MAN ?
A. ?
Possible Answer ?
If 'They' didn't fill their unhappy campers imaginations with 'free land and cheap passage to 'heaven' – none of them would have gotten on those ships or rushed to California to 'mine all that easy to find gold' in the first place !
HEY ALL YOU UNHAPPY CAMPERS IN EUROPE ! THERE'S A REALLY NEW UNDISCOVERD LAND OF DUSTBOWLS, EXTREME WEATHER CONDITIONS & POISONOUS SNAKES WAITING FOR Y'ALL ! WHO WILL VOLUNTEER ? NOPE . AIN'T GOING !
(NO BORED WIVES BEGGING THEIR UNHAPPY HUSBANDS TO TAKE THAT CHANCE)
TALK IS CHEAP, UNTIL WE MEET, EXPOSE THE BULLSHIT, TRY NOT TO CHEAT !
Repeat: We will use the brain Nature provided us with to think for ourselves
Does this map prove that China discovered America before Columbus?
George Dvorsky10/09/13 11:40AM•Filed to:DEBUNKERY276
Controversial historian Gavin Menzies is claiming that this map from 1418 proves that the New World was discovered by China's Admiral Zheng He some 70 years before Columbus. But that's not the half of it.
Menzies, a much beloved figure among wingnut historians, just published a book titled Who Discovered America in which he lays out these and other remarkable claims — including the suggestion that Chinese sailors were the first to cross the Pacific Ocean over 40,000 years ago. It's the latest in a series of books in which he's pushed the rather outlandish theory that Chinese sailors discovered both New World continents.
In his new book, Menzies backs his claim by a map found in a second-hand bookshop by attorney Liu Gang in Beijing. The Daily Mail (of course, who else?) recently spoke to Menzies:
The document, he says, is an 18th century copy of Admiral Zheng He's 1417 map. Mr Menzies argues that it clearly shows North American rivers and coasts, as well as the continent of South America.

Mr Menzie's assertion about Zheng He's voyage to the New World isn't new – he first wrote about it in 2002 – but the map is.

Mr Liu had the map authenticated by an appraiser from Christie's Auctions, who said that the document was 'very old' and was not a newly-made fake.

After Mr Liu brought the map forward, Menzies also had a team of historians analyze every word on it. He concluded that it was originally written in the Ming Dynasty – a Chinese period that lasted from 1368 to 1644.
He also claims to have a map showing the names of specific Peruvian towns.
Thankfully, as Shanghaist points out, there are actual historians on the case, namely Geoff Wade. He points out some rather glaring issues:
It is a dual-hemisphere map, a cartographic tradition exclusively European. California is represented as an island, copied straight from European maps of the 17th century. China is placed at the centre of the map as it was in early Jesuit maps of the world produced in China. It is based on a rough copy of a Jesuit map of the world.
The eunuch Zheng He is referred to as Ma San-bao. No one would have dared to use his original name given that the emperor had assigned him the surname Zheng.
The amount of non-coastal detail (including riverine systems extending thousands of miles from the coast) indicate that these maps could not have been produced by maritime voyagers. The information in the maps was obviously amassed over time by cultures who had travelled widely. It fits perfectly within the history of European cartography, but is a complete anomaly in Chinese cartography.
The Himalayas are marked as the highest mountains in the world. This fact was only discovered in the 19th century.
As for the claim that the Chinese were the first to cross the Pacific 40,000 years ago — and not use the Bering Strait — Menzes told the Daily Mail that, "If you just go out in a plastic bath tub, the currents will just carry you there. They just came with the current, it's as simple as that."
Well, there you have it. It's worth noting, however, that Pacific Islanders may have reached South America before Columbus; a recent genetic analysis of an indigenous Brazilian tribe called the Botocudos has revealed traces of Polynesian DNA.Did Pacific Islanders reach South America before Columbus?
A genetic analysis of an indigenous Brazilian tribe called the Botocudos has revealed traces of…Read more
As an aside, there's an entire website devoted to debunking Menzes's claims.
Images: Liu Gang.
Video : Bread